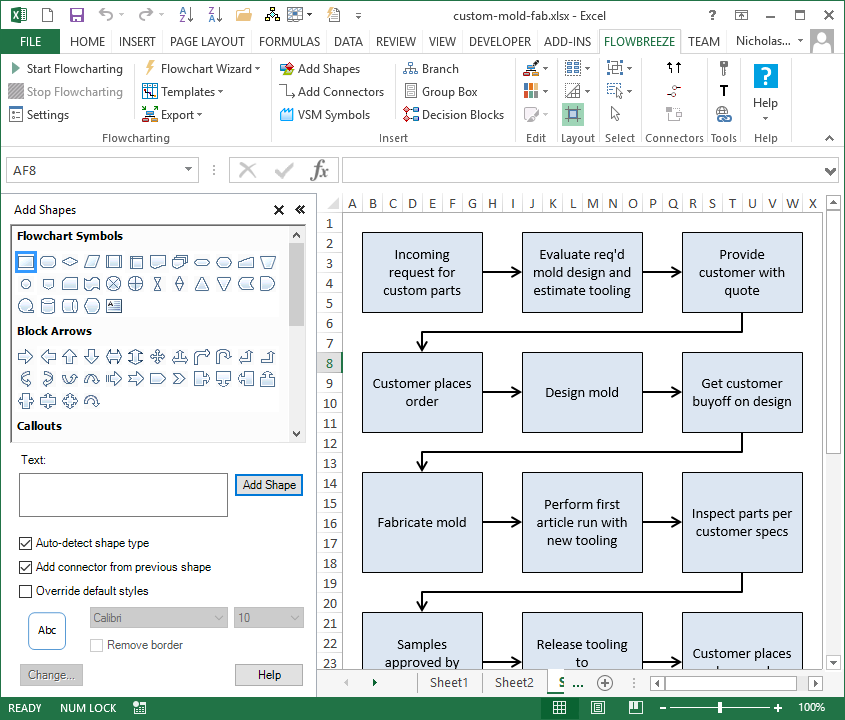 FlowBreeze is an add-in for creating flowcharts in Microsoft Excel. It automates the process of making flowcharts by generating flowchart shapes as you type. It also automatically applies stylings, aligns shapes, and adds a connector arrow from the previous shape when each shape is created. You can associate keywords and prefixes with a given type of flowchart symbol, and preset different stylings to each shape type. FlowBreeze leverages the built-in Microsoft Office shapes, so the diagram you create is contained in a normal Excel file – that anyone with Excel can view or edit.
In addition to interactive flowcharting (text-to-flowchart as you type), Flowchart also has two other tools for creating flowcharts:
* Flowchart Wizard – with the Flowchart Wizard, you pre-layout plain text on the Excel spreadsheet in the approximate location that you want the shapes to be placed. The Wizard will import the text, parse it to determine shape types, then generate a flowchart to match the layout based on whether you've chosen a top-to-bottom or left-to-right flow. It can also link the shape content to the original cell, so you can create flowcharts that update dynamically based on content from other sheets.
* The Add Shapes and Add Connectors task panes – these task panes (Excel side panels) let you add individual shapes and arrows, which is useful for more complex layouts and editing existing flowcharts.
FlowBreeze has many other features for automating flowcharting as well:
* Generate Org Charts from a list of employees and supervisors.
* Design custom cross functional (swim lane) templates.
* 84 built-in shape styles and 21 built-in arrow styles.
* 124 available symbols, including flowchart symbols, block arrows, callouts and more.
* Export flow charts as 5 picture formats (PNG, BMP, JPG, GIF, TIF).
* Embed editable flowcharts directly into Word or PowerPoint.
* Automatically add Start and End Terminator symbols.
* Apply formatting styles in a single click.
* Create uniformly sized shapes.
* Add straight, elbow, or curved connectors.
You are allowed to use this product only within the laws of your country/region. SharewareOnSale and its staff are not responsible for any illegal activity. We did not develop this product; if you have an issue with this product, contact the developer. This product is offered "as is" without express or implied or any other type of warranty. The description of this product on this page is not a recommendation, endorsement, or review; it is a marketing description, written by the developer. The quality and performance of this product is without guarantee. Download or use at your own risk. If you don't feel comfortable with this product, then don't download it.
You May Like